I read an interesting article in the UK's Guardian newspaper last week.
It was all about a new breed of poets who are publishing their work using the photo-sharing service Instagram (and others). Some of these writers are attracting huge numbers of followers, which in turn has led to publishing deals, media appearances, and so on.
The article focuses especially on one of these poets, Thailand-born Lang Leav. It says:
In 2013, Lang Leav self-published a small debut poetry collection, Love & Misadventure, online. Two years later, she was meeting her fans on a book tour in the Philippines. "It was insane," she says. "The organisers had to limit each signing to 500 people per session … and I was being escorted by armed guards." Many queued for hours, some camping out overnight for a chance to meet her.

Leav is one of a new generation of bestselling poets catapulted to celebrity – and coveted book deals – through the use of social media, and the huge followings they have built up. Dubbed the "Instapoets", they have thousands upon thousands of followers hooked on their every post across Instagram, Tumblr, Facebook and Twitter – and they defy the age-old preconception that it is not possible to make a living out of being a poet.
As someone who once wrote (not especially good) poetry and performed it for a token fee (or nothing) in pubs and arts centres, I was intrigued by this development, which I hadn't heard about before. And at last I had an answer to the question of what is Instagram for 😉
Just for fun, I dug out one of my old poems and turned it into an Instagram-style photo using the online PicMonkey service. It's posted above, although I'm not sure I shall be joining Lang Leav at one of her book signings any time soon! But certainly if I was a young poet starting out today, this is an avenue I would want to explore.
Anyway, in case any of you are interested, here are a few more tips for aspiring Instagram poets drawn from the Guardian article and elsewhere:
Use hashtags to help get your work noticed. These are (of course) words or short phrases following a hash symbol. Two that are commonly used for this purpose are #instapoetry and #instagrampoetry.
Poems can take any form you choose, but for this medium it's best to keep them short. Some Instagram poets specialize in haiku and have achieved large followings creating these pithy, 17-syllable poems.
Experiment with different colours and backgrounds. There is lots of scope for being creative here. A four-line poem about violence by Rupi Kaur in the Guardian article is accompanied by a hand-drawn illustration of a globe, with countries hit by terror attacks marked with little black hearts.
It's not just Instagram. You can also post your poems on other social media, including Tumblr, Twitter and (of course) Facebook. 
You can (and probably should) set up a blog too and publish your work there. Give readers a way of subscribing to see your poems as soon as they are written.
You could also set up an email newsletter with news about your work, publishing plans, book signings, and so forth.
Keep posting, and if you build up a big enough fan base a publisher may come calling, or you could publish yourself using Amazon Kindle or Createspace.
You might also want to consider investing in FollowAdder for Instagram, dedicated software for managing your Instagram posts and building your audience more quickly (see also the banner ad below).
If you have any comments or questions, as ever, please do post them below!
Save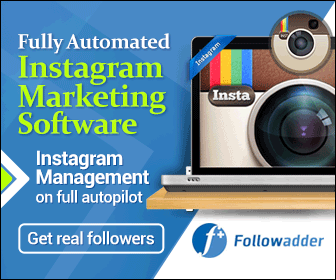 Save
Save
Save
Save